Cycle Routes
If bicycles had been invented centuries before, then surely the clever Romans would have made good use of them for moving between the widely spread forts, milecastles, turrets, towns and villages that made up this northern frontier of the Roman Empire.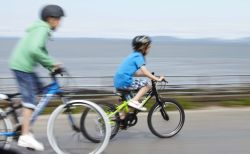 Now, it's not only Roman sites that are there for you to discover by bicycle, but a diverse range of other historic and modern attractions all set amidst some of Britain's most stunning and varied natural scenery. To pedal through this landscape in a leisurely but active way makes the experience all the more memorable.
We've produced a set of cycle rides that can be done in a day to create mainly circular routes that are safe and attractive as we can make them. Some of these routes link with the bicycle-carrying AD122 Hadrian's Wall Country Bus, and Tyne Valley and Cumbrian Coast line train services. Each route is rated as either easy, moderate or a challenge in terms of physical effort required by someone of average fitness.
Haven't brought your bike with you, why not hire? Visit our Cycle Hire page to find a cycle hire establishment near you.