Cycle Hire
If bicycles had been invented centuries before, then surely the clever Romans would have made good use of them for moving between the widely spread forts, milecastles, turrets, towns and villages that made up this northern frontier of the Roman Empire.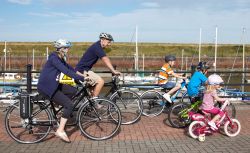 Now, it's not only Roman sites that are there for you to discover by bicycle, but a diverse range of other historic and modern attractions all set amidst some of Britain's most stunning and varied natural scenery. To pedal through this landscape in a leisurely but active way makes the experience all the more memorable.
There are a number of cycle hire shops across Hadrian's Wall Country that can get you out and about and enjoying the benefits of touring on two wheels. Whatever your needs whether they be for a day's cycling or a longer period, the listing of cycle hire businesses below will help you find a supplier.