Locally Produced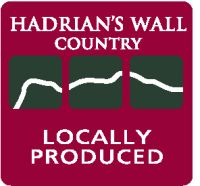 The Wall must have been a trading centre even back in Roman times. After all, if you had something to sell you'd go where there were lots of people to feed wouldn't you?
Well we are pleased to say that there is still a thriving trade in locally produced goods, be it food, drinks or arts and crafts.
Within Hadrian's Wall Country you'll discover that locally produced means that the local people have made their products with care and pride. Pure craftsmanship and quality shines from produce that ranges from cheese to ceramics. For some it's about tradition and the Roman legacy, for others it's about producing excellent and innovative goods.
Whilst you're doing your exploring, discovering, walking and cycling you'll need to refresh your inner self. Many local places to stay pride themselves on the quality of their breakfasts. There's nothing quite like local bacon, egg and sausage to set you up for the day. And many restaurants, too, source terrific high quality ingredients from just down the road.
Farm shops give the chance to sample in-season fresh foods: local and rare breed meats, homemade cakes and scones. Many have yummy tearooms attached for sampling there and then. Smoked fish and game, speciality cakes and bread, local fruit and vegetables, ready-prepared meals - to be honest, there's not much you can't get at farms, shops, delis, restaurants and cafes across Hadrian's Wall Country.
Just look out for the Locally Produced lable wherever you go.